Books
(Roost Books/Shambhala, 2010; 246 pgs; $14.95; ages 8 and older)
Aimed at 7-year-olds and up, Rip the Page! is a go-to guide of wacky writing experiments guaranteed to get kids of all ages to pick up a pen. Young writers say they love RTP! because "There aren't any rules or grades and you get to write and rip pages…and just have FUN!"  Notes of Encouragement are written directly to the reader from Annie Barrows, Lemony Snicket, Gary Soto, Avi, Patricia Polacco, Naomi Shihab Nye, Betsy Franco, Elizabeth Singer Hunt, Karen Cushman, and Lewis Buzbee… Homeschooling communities choose RTP! for its playful approach.  Elementary school teachers use RTP! for the engaging prompts and mini lesson plans.  College level instructors keep RTP! around to de-traumatize incoming freshman. Education Departments include RTP! on reading lists for pre-service teachers. Now translated into Russian and Korean.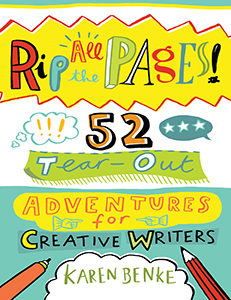 (Roost Books/Shambhala, 2019; 52 pgs; $12.95; ages 8 and older)
This is the activity book for out-of-bounds creative writing fun. Full of zany, silly, and thoughtful prompts, this book will help you take your writing to new places, literally! Write a wish and fold it into a paper crane; write a secret poem and place it somewhere for a stranger to find; write your hopes and dreams before sending them soaring as a paper airplane–there's no end to the imaginative ways to use words and paper. Unleash your creativity!
Write Back Soon! Teacher's Guide (meets Common Core Standards for 6th grade) PDF HERE
(Roost Books/Shambhala, 2015; 240 pgs; $16.95; ages 12 and older)
WBS! is for anyone who loves hand-written notes. Contributors include Neil Gaiman, Ruth Ozeki, Jane Hirshfield, Norman Fischer, J. Ruth Gendler, Natalie Goldberg, Ava Dellaria, Jon J Muth, Wendy Mass, Albert Flynn DeSilver, Claire Dederer, Gary Snyder, Alison Luterman & Lucille Lang Day.  The simple act of penning notes and sending letters via snail mail re-connects us to friends, parents, grandparents, and to ourselves.
(Roost Books/Shambhala, 2013; 282 pgs; $16.95; ages 10 and older)
Leap Write In! is the follow-up to Rip the Page! and aimed at writers ages 11 and up. A group of  middle school students assisted in crafting the experimental chapters in LEAP! and weren't shy about expressing what prompts held their interest. (The parts they didn't like got left out!)  LEAP! contains a rippling memoir (mine) throughout and invites readers to remember and create their own real life stories of surprise. LEAP! encourages you to explore the territory of your heart and mind, to trust yourself, and ultimately to be your own writing guide.
 If you're interested in getting a signed copy of any of my books, contact me.
For cost, take the list price of the book(s) plus $5.00 for shipping and packaging.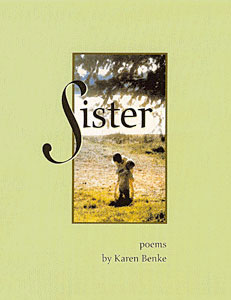 Sister
(Conflux Press, 2004; 41 pgs; $10) Sold Out
Sister is an ode to childhood that explores the love and loss between siblings. Jane Hirshfield said of Sister: "These are tactful, beautiful poems of grief-acknowledgment and deep connection, each holding a clean-cut wedge of the clearly seen, the precisely felt, the fully lived."  This small collection is often purchased for friends and for sisters. (Check with me in 2019 regarding Sister being re-printed.)